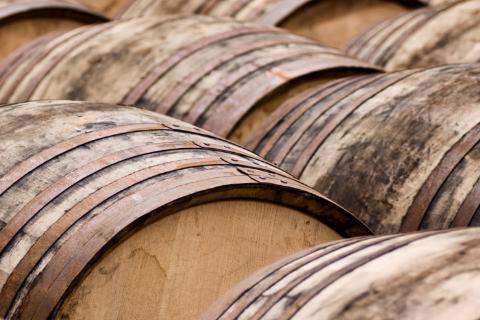 It's safe to say that Pernod Ricard can boast the most beautiful classical-looking distillery (Strathisla), the most beautiful art deco 20th Century distillery (Tormore), and now the prize for the most aesthetically pleasing modern distillery in Dalmunach Distillery. Built in 2015 on the site of the old Imperial Distillery, Dalmunach uses all the technology of the modern age and is incredibly energy efficient, using 40% less gas/electricity and 15% less water than the industry average. When your production is 10,000,000 litres per annum, then that makes a significant difference to costs and the distillery's carbon footprint. 
Many industry insiders were quite surprised when the historic Imperial Distillery was demolished, but credit to its innovative owners who recycled elements of the old distillery into the new construction.  At present, the plan for Dalmunach is to supply single malt whisky for famous blends like Chivas Regal, Ballantine's, and Royal Salute. For Chivas, the age of the youngest whisky in the blend is 12 years, whilst for Royal Salute it's 21, therefore there's still a lot of aging to do. However, so far about 50 Independent Bottlings have already come onto the market. 
The fermentation time is 56-62 hours and the four pairs of stills are huge, with the wash stills at 28,000 litres and the spirit stills at 18,000.  For investors, already Dalmunach has shown itself to be very versatile for any exit strategy. The whisky clearly can be bottled young and it is quite exciting to think about how special it will be when it reaches its milestone ages of 10, 12, 15, and 18. The Independent Bottlers are already very interested in these casks. Other factors to consider are the famous deep-pocketed owners, who know how to make great whisky and possibly at some point in the near future will start marketing and investing in developing the Dalmunach brand. We think that this is the time to closely look at Dalmunach before it becomes established in the pantheon of much loved Speyside distilleries.
Fact File
Name: Dalmunach
Founded: 2015
Region: Speyside
Owners: Pernod Ricard
Capacity: 10 million litres
Stills: 8
Fermentation: 56-62 hours
Peated/Unpeated: Unpeated
Casks Used: Bourbon & Sherry
Recent significant awards: Non entered
Independent bottlings: Around 50
We have 2017 Dalmunach casks on our current stock list. To find out more about investing in Dalmunach casks, contact The Masters today!
Find out about how to buy a barrel of whisky or sell a whisky cask and general whisky investment.