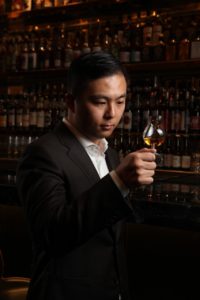 As the newest member of the Cask Trade family, Alan is helping John Wong head up our new Hong Kong office and is joining us as a Sales & Marketing Executive and fellow Whisky nerd.
How long have you worked for Cask Trade? I started working in Cask Trade at the end of July. So I have worked for almost a month!
What first ignited your passion for Whisky? I joined a wonderful whisky tour when I was traveling in Edinburgh. That was the first time I tried single malt Scotch Whisky and I have fallen in love with whisky ever since.
What are your top three favourite World whiskies and why? 1. Caol Ila from Scotland It has a taste of soft smoke and peat which makes a perfect balanced whisky. 2. Cooley from Ireland. Irish Whiskey often gives a smooth mouthfeel and elegant fruit flavour because of its unique triple distilled method. 3. Kavalan from Taiwan Kavalan whisky provides a strong oaky and spicy flavour, especially those matured in a sherry cask. You will definitely love it if you are a sherry-casked whisky lover.
What are your favourite flavours? Which aspects of whisky are the most important for you? It is really hard to pick one favourite because I like many of them. But if I really had to choose one, it would be peat. I would say the taste of the whisky is the most important for me. Every single whisky has its own distinctive taste because of its uniqueness. I will never get tired of having whisky every day.
Your favourite whisky cocktail? My favourite whisky cocktail would be an Old Fashion. I like the flavour when the whisky is mixed with the bitters, it tastes so amazing!
Whisky with water or straight cask strength? It depends. Straight cask strength can give you a strong, powerful and full flavour of the whisky, meanwhile, whisky with water has a nice elegant and comfortable taste. So, why not both?
What do you like most about Cask Trade? I like working with the people here in Cask Trade, very friendly and helpful to each other.
Why should people invest in Whisky Casks? Whisky Casks are really a nice long-term investment as older whiskies are getting more and more rare and expensive, so it would be a very good foresight to invest in Whisky Casks.
To find out more about what Cask Trade can do for you, don't hesitate to contact the team today and let's talk whisky!